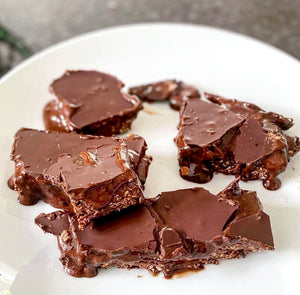 You Will Need
For the base:
100g Oats
4 tbsp Raw Cacao
2 tbsp Nut Butter
2 tbsp Coconut oil
4 tbsp Maple Syrup
For the centre:
2 Scoops Chocolate Protein Powder
2 tbsp Nut Butter
3 tbsp Raw Cacao
4 tbsp Any Milk
2 tbsp Maple Syrup 
For the topping:
Directions
Mix together the ingredients for the base and put into a baking tray, pressing it down. Refrigerate.
Mix the ingredients for the centre and pour over the base.
Melt the topping ingredients and pour over. Leave in the fridge to set for 2 hours. 
Enjoy! 
By @cityfoodscene
Comments (0)