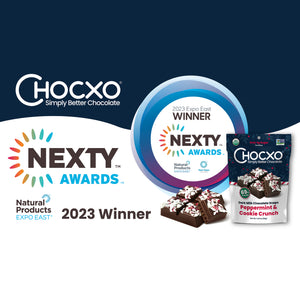 Truly indulgent, lower sugar, organic chocolate brand wins for seasonal holiday item in the category of Best New Dessert at Final Expo East in Philadelphia
Vancouver, BC (September 27, 2023) – Chocxo is one of only 20 winners of the New Hope Network 2023 Expo East NEXTY Awards for outstanding new products in the natural products industry. One of Chocxo's new holiday items – Dark Milk Chocolate Peppermint & Cookie Crunch Snaps – took home the win in the Best New Dessert category. 
The new Chocxo Dark Milk Chocolate Peppermint & Cookie Crunch Snaps are made with a rich dark milk chocolate blend, made from a combination of organic 85% cacao dark chocolate and creamy milk chocolate, paired perfectly with crunchy organic peppermint candy pieces and crispy gluten-free dark chocolate cookie bits for a one-of-a-kind holiday treat. Each Snap is individually wrapped and has only four grams of sugar per piece, without any artificial sweeteners or sugar alcohols.
Chocxo's Dark Milk Chocolate Peppermint & Cookie Crunch Snap was one of 69 finalists selected by a panel of natural products industry experts from 400 nominated products across 20 categories. The award winners were announced at Expo East on September 21, 2023.
"We are thrilled about our NEXTY win for our Dark Milk Chocolate Peppermint & Cookie Crunch Snaps," said Kristen Mandel, VP of Marketing and Innovation for Chocxo. "This product is the brand's first foray into seasonal offerings and we are so excited to be recognized for it. We are excited for chocolate lovers to get to enjoy this award-winning better for you and planet treat this upcoming holiday season."
NEXTY Awards are given to products that display outstanding innovation, inspiration, and integrity. These products help drive the underlying goal of the natural products industry to deliver more healthful, trusted, and sustainable products to consumers.
"We consider ourselves industry experts on the New Hope Network editorial team. Through extensive debate and deliberation, we have carefully selected 24 outstanding brands that are pushing the natural products industry towards a healthier and more sustainable future for people and planet," says Adrienne Smith, who manages the NEXTY Awards program at New Hope Network. "To rise above four hundred other nominations is an incredible feat. We are incredibly excited about these products and the impact they can have on our food system. The winners of our NEXTY Awards inspire change and integrity in everything from ingredients to packaging."
The NEXTY Awards is a biannual awards program connected to New Hope Network's in-person and digital events. They were created to recognize the pinnacle of excellence in the natural products industry, elevating impactful brands and products that inspire a healthy, sustainable future for people and planet.
For more information about Chocxo please visit www.Chocxo.com or check out @ChocxoChocolatier on Instagram, and @ChocxoChocolatiers on Facebook. Learn about the NEXTY Awards at nextyawards.com.
About Chocxo
Born from decades of chocolate making experience combined, Chocxo was founded in 2014 by passionate chocolatiers on a mission to share the joy of truly indulgent chocolate that is naturally better for you and the planet. Chocxo crafts a line of truly indulgent premium chocolates from simple, organic ingredients that are naturally lower in sugar (without artificial sweeteners or sugar alcohols). Chocxo chocolates are made from sustainably-sourced organic cocoa beans that are naturally more flavorful, hence, needing less sugar to taste incredible. Chocxo's Dark Chocolate Peanut Butter Cups, Dark Chocolate Almond Butter Cups and Dark Chocolate Coconut Cups have recently won product awards from Good Housekeeping, Cosmopolitan and DeliciousLiving, among others. Chocxo is a proud partner of RePurpose Global and all Chocxo products are Certified Plastic Neutral. All Chocxo chocolates are made in Vancouver, BC, and ship to chocolate lovers worldwide.
Comments (0)