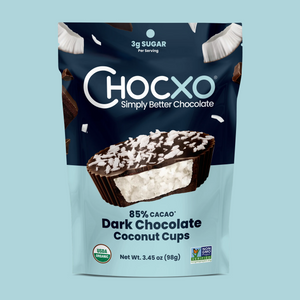 Award-winning Premium Organic Better-for-You Chocolate Brand Introduces Latest Product Offering at Annual Natural Products Expo West
Vancouver, BC (March 7, 2023) – Chocxo, the truly indulgent, lower sugar, organic chocolate brand, will be debuting its Dark Chocolate Coconut Cups at this year's Natural Products Expo West Show. Chocxo invites Expo West attendees to stop by Booth #2053, Hall B from March 9 to March 11 to sample the brand's newest product innovation.

Chocxo's new Dark Chocolate Coconut Cup features organic coconut that is mixed with a slightly sweet white chocolate before being encased in an 85% cacao organic dark chocolate shell. The intense dark chocolate compliments the sweet nutty flavor of the coconut, without overpowering it, for a truly indulgent, lower sugar, organic treat. As with all Chocxo products, Chocxo's new Dark Chocolate Coconut Cups are made with carefully-selected, sustainably-sourced cocoa beans that are naturally flavorful and less bitter, which means less sugar is needed to deliver the mouth-watering delicious taste. Only a small amount of organic cane sugar is used to underscore the chocolate's naturally delightful taste, without any artificial sweeteners or sugar alcohols. One cup has 80 calories, and 3g of sugar and is Organic, Non-GMO, Gluten-Free, KETO-Certified and Kosher.
With strong coconut product performance in market, the projected high potential for the coconut category, and the product's delicious taste, Chocxo's new Dark Chocolate Coconut Cup delivers what customers demand in better-for-you chocolate – true indulgence, less sugar (without sugar alcohols) and organic ingredients. Chocolate lovers can find the new Dark Chocolate Coconut Cups on the Chocxo website, on Amazon and in all Mother's Market locations in Southern California. Internationally, the new Chocxo Dark Chocolate Coconut Cups are available in Costco Canada and Costco Mexico locations nationwide and this spring, the Coconut Cups will be available at hundreds of Grocery and Club locations in the US and Canada.

This year, Chocxo has also partnered with rePurpose Global, the world's leading Plastic Action Platform, to fund the recovery of as much nature-bound plastic waste as it uses in the manufacturing and packaging of its products. Chocxo's commitment will enable the removal of approximately 20,000 pounds of plastic waste each year, the equivalent of over half a million plastic bottles, that would otherwise end up polluting the natural environment. This action on plastic waste by Chocxo is part of a wider plastic action strategy by the brand that includes plastic waste reduction while on their path to 100% recyclability and compostability.

"We are excited to introduce Expo attendees to our new Dark Chocolate Coconut Cups that are made with naturally sweet, shredded coconut and the finest flavored chocolate for an amazingly delicious product that is sure to satisfy a chocolate craving," said Peter Higgins, President of Chocxo. "As Chocxo continues to grow its product offerings and retail presence within the U.S., we are committed to our mission to deliver truly indulgent products that are better for you and the planet. We are thrilled about the new item launch and to be announcing our new partnership with rePurpose Global."

During the show, booth visitors are also in for a rewarding promotion.  Conference attendees can stop by the Chocxo booth to taste the New Dark Chocolate Coconut Cup and, in return, will receive a Coconut Cups sticker to wear throughout the conference and a full-size bag to share with colleagues, friends and family.

For more information about Chocxo please visit www.Chocxo.com or check out @ChocxoChocolatier on Instagram, and @ChocxoChocolatiers on Facebook.



About Chocxo
Born from over a century of confectionery and chocolate making experience combined, Chocxo was founded in 2014 by passionate chocolatiers on a mission to share the joy of truly indulgent chocolate that is naturally better for you and the planet. Chocxo crafts a line of truly indulgent premium chocolates from simple, organic ingredients that are naturally lower in sugar (without artificial sweeteners). Chocxo chocolates are made from sustainably-sourced organic cocoa beans that are naturally more flavorful, hence, needing less sugar to taste incredible. Chocxo Dark Chocolate Peanut Butter Cups have been recognized by Good Housekeeping as the Best Chocolate Nut Butter Cup and by Cosmopolitan as the Best Chocolate Snack. Chocxo is a proud partner of RePurpose Global and all Chocxo products are Certified Plastic Neutral. All Chocxo chocolates are made in Vancouver, BC, and ship to chocolate lovers worldwide.
Comments (0)