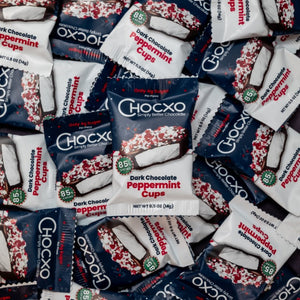 Award-Winning Dark Chocolate Brand Announces New Holiday Lineup with Its Dark Chocolate Peppermint Cups and Dark Milk Chocolate Peppermint & Cookie Crunch Snaps
Vancouver, BC (November 6, 2023) – Chocxo, the truly indulgent, organic chocolate brand that is naturally lower in real sugar is celebrating the holiday season with the launch of two new delicious chocolate innovations: Dark Chocolate Peppermint Cups and Dark Milk Chocolate Peppermint & Cookie Crunch Snaps. Both of Chocxo's new holiday innovations are only 4g of sugar per piece, Certified Organic, Gluten-Free, Kosher, and Non-GMO Project Verified, making them festive treats that most any lifestyle can truly enjoy. Available across US and Canadian retailers, Chocxo.com and Amazon, Chocxo's holiday innovations are perfect for holiday treating, casual gifting, festive decorating, holiday baking and stocking stuffing. 
Recently named a 2023 NEXTY Award Winner by Natural Products Expo East, Chocxo's Dark Milk Chocolate Peppermint & Cookie Crunch Snaps are made with a rich dark milk chocolate blend, made from a combination of organic 85% cacao dark chocolate and creamy organic milk chocolate, mixed with crispy gluten-free dark chocolate cookie pieces and topped with crunchy organic peppermint candy pieces for a one-of-a-kind holiday treat. The ingredients combine for a slightly sweet, minty, crunchy chocolate treat that tastes just like the season, with only 4 grams of sugar per individually-wrapped mini bar.
Chocxo's Dark Chocolate Peppermint Cups feature a rich 85% dark chocolate shell filled with a creamy peppermint-infused white chocolate center and topped with crunchy peppermint candy pieces. The sweetness of the peppermint-flavored white chocolate center perfectly balances the richness of the dark chocolate shell, and the peppermint candy pieces add a perfect holiday-inspired crunch that makes for a truly delightful holiday chocolate experience, with only 4g of sugar and 80 calories per cup. 
"With consumers enjoying holiday-themed treats to elevate their celebrations, we're thrilled to introduce Chocxo's two new holiday peppermint innovations," shared Peter Higgins, President of Chocxo and Chewters Chocolates. "As candy cane and peppermint bark continue to rank among the top three holiday flavors, we're excited to offer consumers a delicious, organic and lower sugar option to satisfy their festive indulgence cravings. These delectable chocolates demonstrate our commitment to delivering exceptional quality while catering to the evolving tastes and health-conscious choices of our customers."
Chocxo's Dark Chocolate Peppermint Cups and Dark Milk Chocolate Peppermint & Cookie Crunch Snaps are available for purchase on www.Chocxo.com, Amazon, and through national and regional retailers across the US and Canada including Sprouts, HEB, Harris Teeter, Hy-Vee, Natural Grocers, Busch's and Fresh Thyme in the US, and Loblaws, Sobeys, Safeway, Thrifty Foods and Whole Foods in Canada. 
Visit @ChocxoChocolatier on Instagram and @ChocxoChocolatiers on Facebook for new product updates and festive ideas from the brand.
About Chocxo
Born from over a century of confectionery and chocolate making experience combined, Chocxo was founded in 2014 by passionate chocolatiers on a mission to share the joy of truly indulgent that is naturally better for you and the planet. Chocxo crafts a line of premium chocolates from simple, organic ingredients that are naturally lower in sugar, without artificial sweeteners. Chocxo Chocolates are made from sustainably-sourced organic cocoa beans that are naturally more flavorful, needing less sugar to taste incredible. Chocxo Dark Chocolate Peanut Butter Cups have been recognized by
Good Housekeeping
as the Best Chocolate Nut Butter Cup and by
Cosmopolitan
as the Best Chocolate Snack. Chocxo is a proud partner of RePurpose Global and all Chocxo products are certified Plastic Neutral. All Chocxo chocolates are made in Vancouver, BC, and ship to chocolate lovers worldwide.
Comments (0)