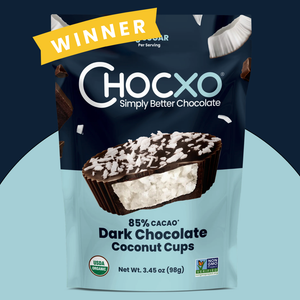 Vancouver, BC (July 5th, 2023)– Chocxo, the truly indulgent, organic chocolate brand that makes a portfolio of chocolates that are naturally lower in sugar, announced today that its Dark Chocolate Coconut Cups were recognized in Good Housekeeping's 2023 Best Snack Awards in the Satisfying Sweets category. Chocxo Dark Chocolate Coconut Cups and select winners can be found in the July/August 2023 issue of Good Housekeeping, on stands now, and the full list is available online at: goodhousekeeping.com/snackawards2023.

Chocxo's Dark Chocolate Coconut Cups feature a rich and creamy organic coconut center that is mixed with slightly sweet organic white chocolate before being encased in an 85% cacao dark chocolate shell. The intense dark chocolate complements the sweet yet nutty flavor of the coconut, without overpowering it for a truly indulgent, lower sugar, organic treat. Chocxo's new Dark Chocolate Coconut Cups deliver what consumers demand in better-for-you chocolate – true indulgence, less sugar (without sugar alcohols or artificial sweeteners), and clean organic ingredients. Each individually-wrapped Dark Chocolate Coconut Cup has just 80 calories and 3g of sugar per cup and is Organic, Non-GMO Certified, Certified Gluten-Free, and Kosher to make for the perfect feel-good indulgence for most dietary lifestyles.
Chocxo Dark Chocolate Coconut Cups are available for purchase on Chocxo's website (www.chocxo.com), Amazon, and on shelves at several retailers nationwide including select regions of Costco, Hy-Vee, Wegmans, Jewel, Kings Food Markets, Balducci's, Mother's Markets, Erewhon, and more within the coming weeks.
About Chocxo
Born from over a century of confectionery and chocolate making experience combined, Chocxo was founded in 2014 by passionate chocolatiers on a mission to share the joy of truly indulgent that is naturally better for you and the planet. Chocxo crafts a line of premium chocolates from simple, organic ingredients that are naturally lower in sugar, without artificial sweeteners. Chocxo Chocolates are made from sustainably-sourced organic cocoa beans that are naturally more flavorful, needing less sugar to taste incredible. Chocxo Dark Chocolate Peanut Butter Cups have been recognized by Good Housekeeping as the Best Chocolate Nut Butter Cup and by Cosmopolitan as the Best Chocolate Snack. Chocxo is a proud partner of RePurpose Global and all Chocxo products are certified Plastic Neutral. All Chocxo chocolates are made in Vancouver, BC, and ship to chocolate lovers worldwide.
For more information about Chocxo and to find a retailer near you, visit www.Chocxo.com or check out @ChocxoChocolatier on Instagram, and @ChocxoChocolatiers on Facebook.
Comments (0)